Your church needs a great looking website that encourages guests to visit you in person. These companies will help you build a website you'll be proud of.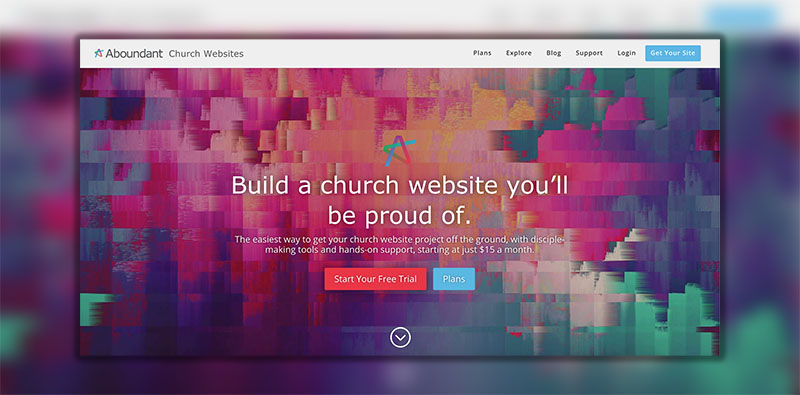 Make a website you'll be proud of. Aboundant has a unique questionaire that is used to build your initial website. Then you can update or change whatever you want, whenever you want. Pricing is $180/year or upgrade to pro features for $336/year. They also have weekly traning videos that will help you make your website even better.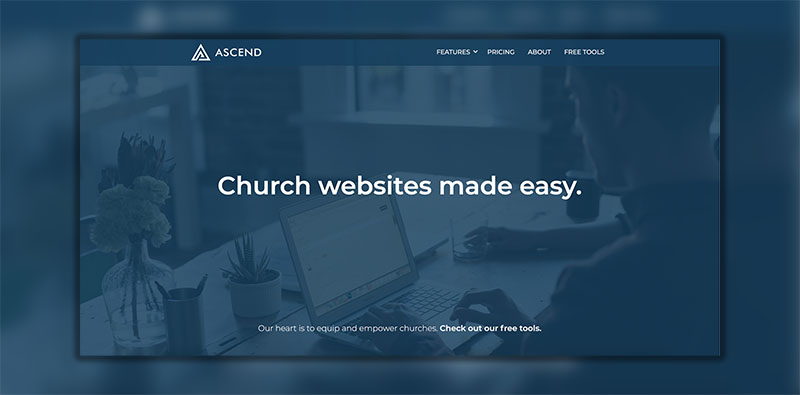 Your website shouldn't be hard to build or maintain. AscendSites helps make websites easy. They have a simple pricing structure. Just $39/month with a one-time setup fee of $499. Be sure to grab their free tools they have provided for every church.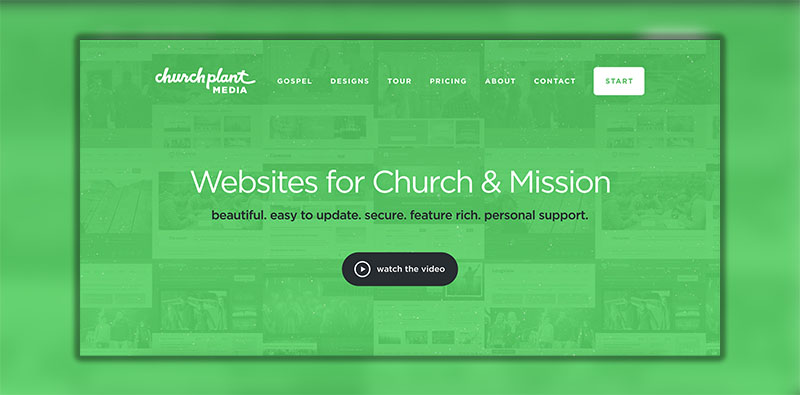 ChurchPlantMedia helps churches, schools, missions organizations and other ministries build great looking websites. Simply answer a few questions and pick a design template you like to get started. Everything is included for $50/month and a one-time setup fee of $500. Every website is hosted and secured by them. You only need a domain name and they handle the rest.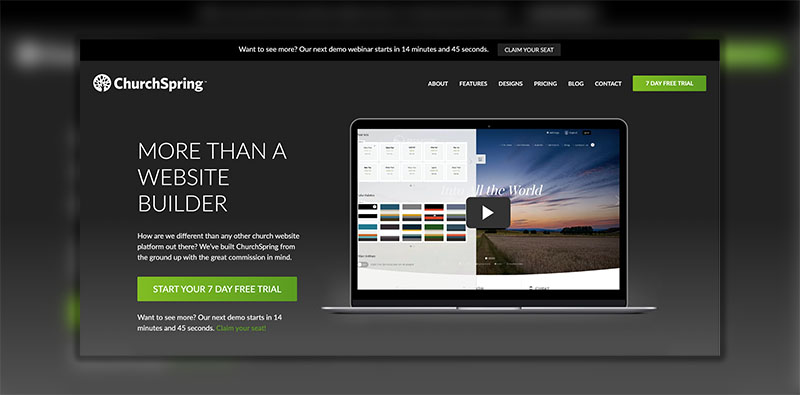 Build a frustration-free website with ChurchSpring. Choose from one of 16 templates, update your info and launch your website in a few minutes. You can pay monthly or yearly with three different pricing plans depending on your needs: $480/year (basic) | $984/year (+sermons & giving) | $1284/year (+social scheduling & church directory). Change your design anytime with just a few clicks with no extra fee.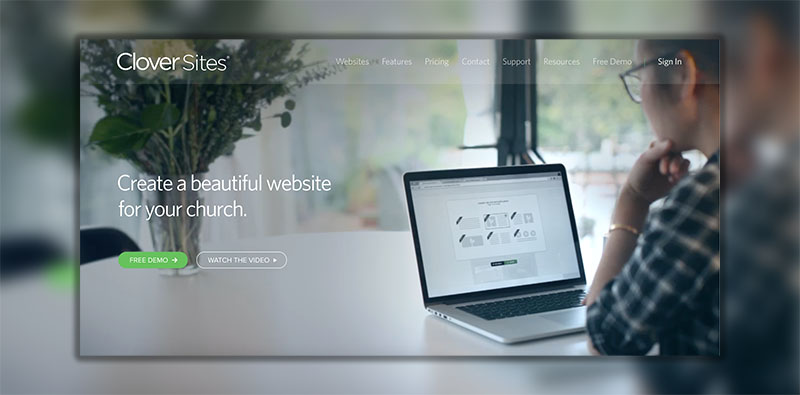 Choose a design template and get started building your church website for only $29/month with a one-time setup fee of $500. They also have a giving option (CloverGive) and a media add-on to help with your design needs. Be sure to check out their list of free resources as well.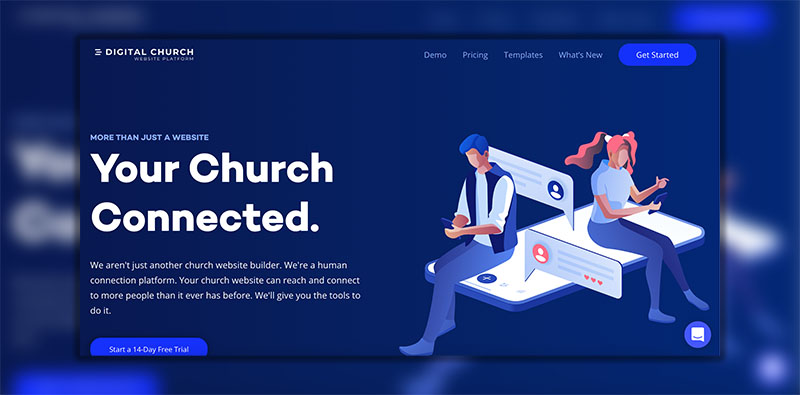 DigitalChurchPlatform is more than a church website builder. They help you reach people in your community through digital tools. They also help make sure your church family is connected to everything going at your church. There are three pricing options depending on your church's needs. $16/month (basic) | $29/month (+sermons & connect cards) | $49/month (+small groups & premium support).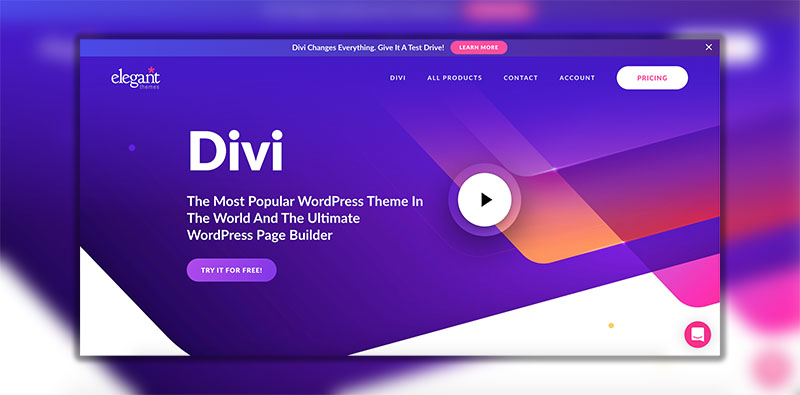 If you want to build your own website using WordPress, the Divi Theme Builder is one of the easiest and most popular builders to use. This drag and drop editor is great for do-it-yourself-ers, no coding experience needed. Get access to Divi (and all future updates) for $89/year or a one-time investment of $249 for lifetime access.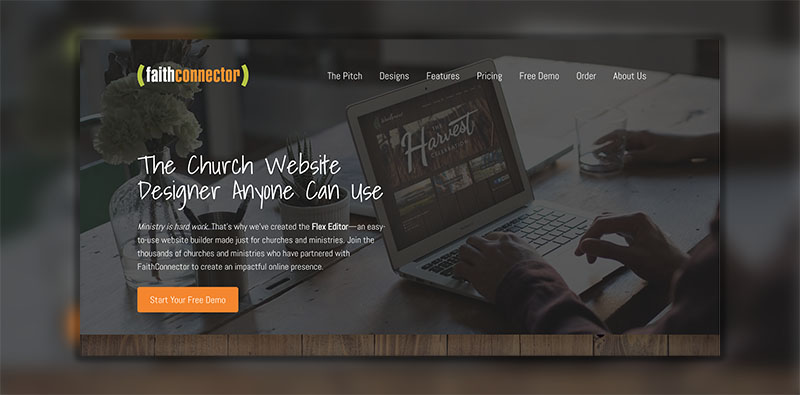 Choose from dozens of quality made designs from FaithConnector to design your website. Their custom drag and drop editor will help you make a great looking site in short order. Their features include email, sermon engine, online giving, a mobile app and more. Get all the features for $45/month (Power) or $70/month (Mega). Both plans are billed yearly or quarterly.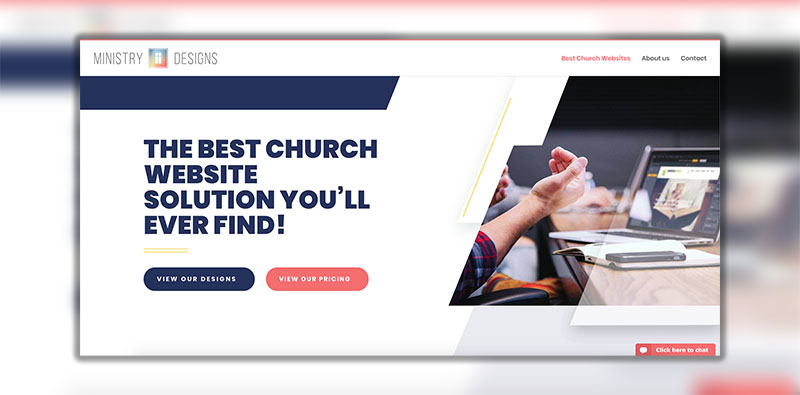 With a core focus on quality training, MinistryDesigns will make sure you have the skills and knowledge you need to leverage your website to reach more people. You get more than a website, you get a ministry partner. Get started by choosing a template from one of their 20+ designs and they will walk you through the rest. There is a one-time fee of $1000 and after that, it's only $20/month.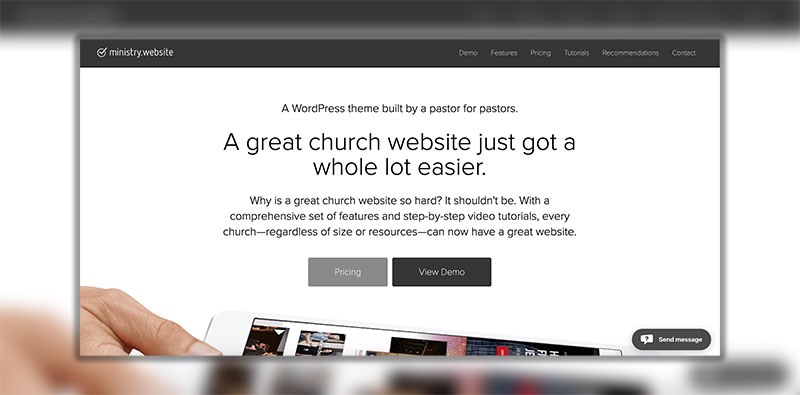 Ministry.website is built specifically with churches in mind. This WordPress theme has robust features and step-by-step video tutorials that make building your site easy. Start building your church website today for a one-time fee of $479, or get premium setup service for $1729 (one time cost).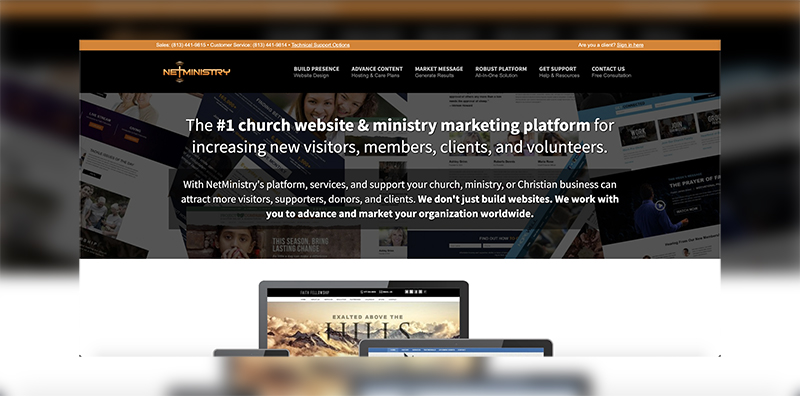 NetMinistry.com is more than just a website builder. They help you grow your church or ministry through effective marketing and communication strategies. They boast serving over 60,000 customers – which is pretty impressive. Never worry about your website again. Get a new website for $99 or upgrade to the turn-key solution for $199/month.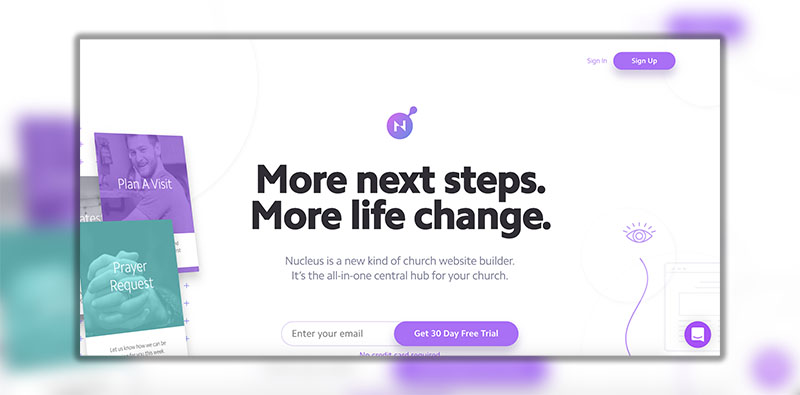 Nucleus is new kind of church website builder. This product from ProChurchTools will encourage your congregation to take next steps in their faith journey. The platform is a mobile first design which means it can replace your church app and save you money. Get everything (website and sermon engine) for $99/month which includes access to their social program and StoryTape (stock footage). Upgrade or cancel at anytime.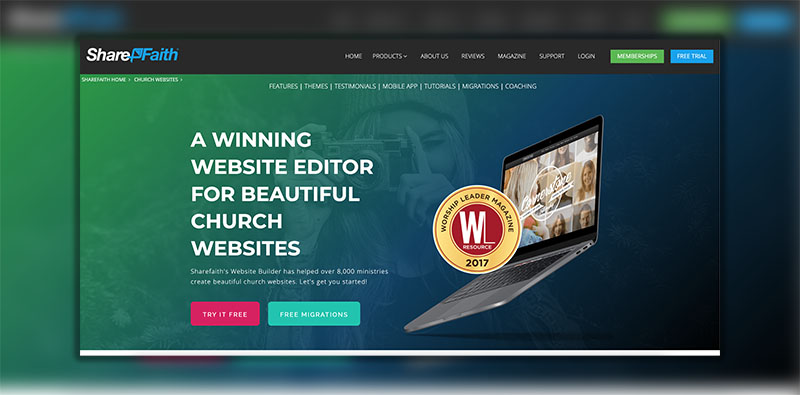 ShareFaith is more than a website builder, it's an all-in-one solution for all your church media needs. Choose from one of 25+ website themes and you're well on your way to having a new website for your church. The webiste + media plan is $50/month or $540/year. This plan includes free migration of your current website to their platform.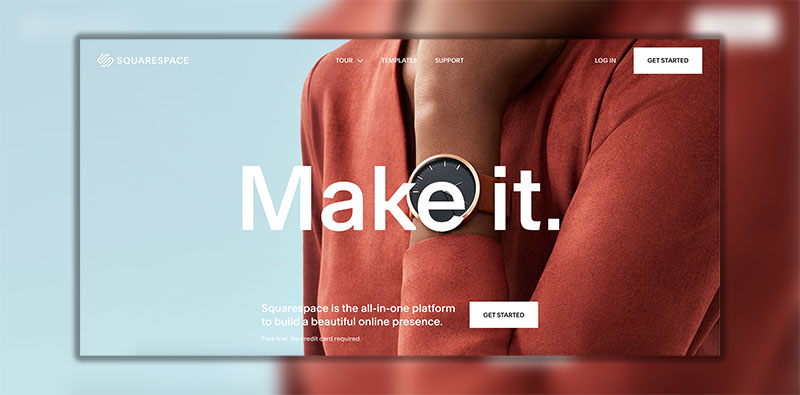 It's hard to mess up a SquareSpace website. It's one of the most popular website builders because it is so easy to use. They have dozens of templates to choose from and a few designs specifically created with non-profits in mind. You can pay monthly or annually with no contracts: $16/month or $144/year (personal) | $26/month or $216/year (business) | $30/month or $312/year (commerce).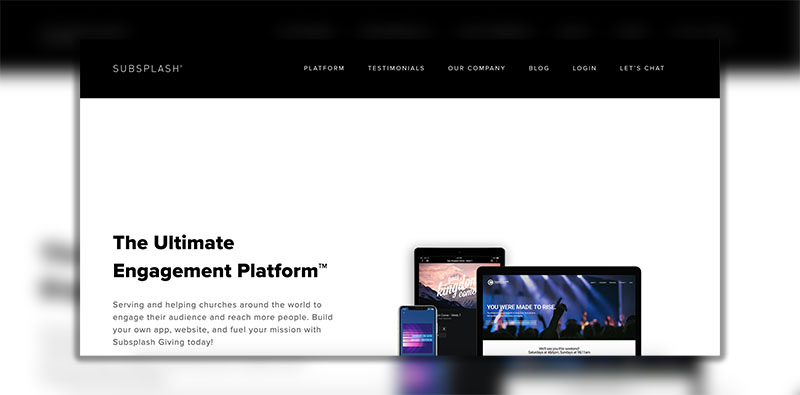 First created as a mobile giving solution, Subsplash helps churches reach more people through websites, media, mobile apps and giving. Build your own website using the SnapPages platform. It's a simple drag and drop block editor that anyone can learn. They don't list their pricing online so you'll need to contact them to find out if their products are within your budget.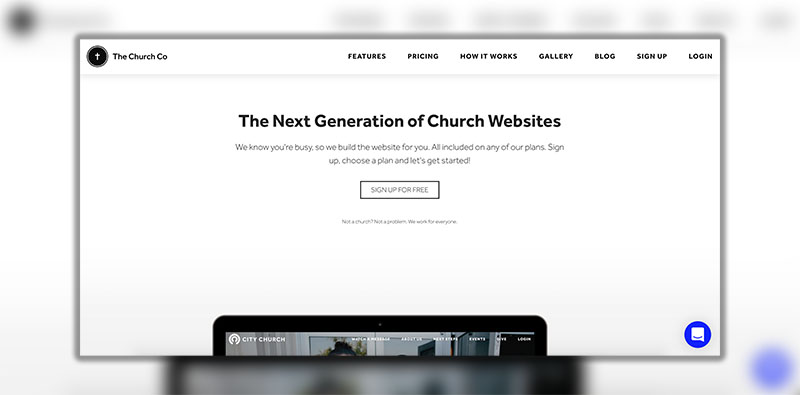 TheChurchCo is one of the most affordable church-specific website builders we can find. They have a heart for the church and believe that websites shouldn't cost thousands of dollars (we agree!). Build your own site or have them do it based on your current site. There is no setup fee and $20/month will get you unlimited pages and unlimited storage. $50/month includes online giving, sermon notes and a small group engine. You can also pay for them to make unlimited changes ($199/month) if you don't want to update your site.
Does your church struggle with tech?
Most churches have a hard time using tech the right way. I train teams to use the best resources available so they have the clarity and confidence they need to serve their church well.