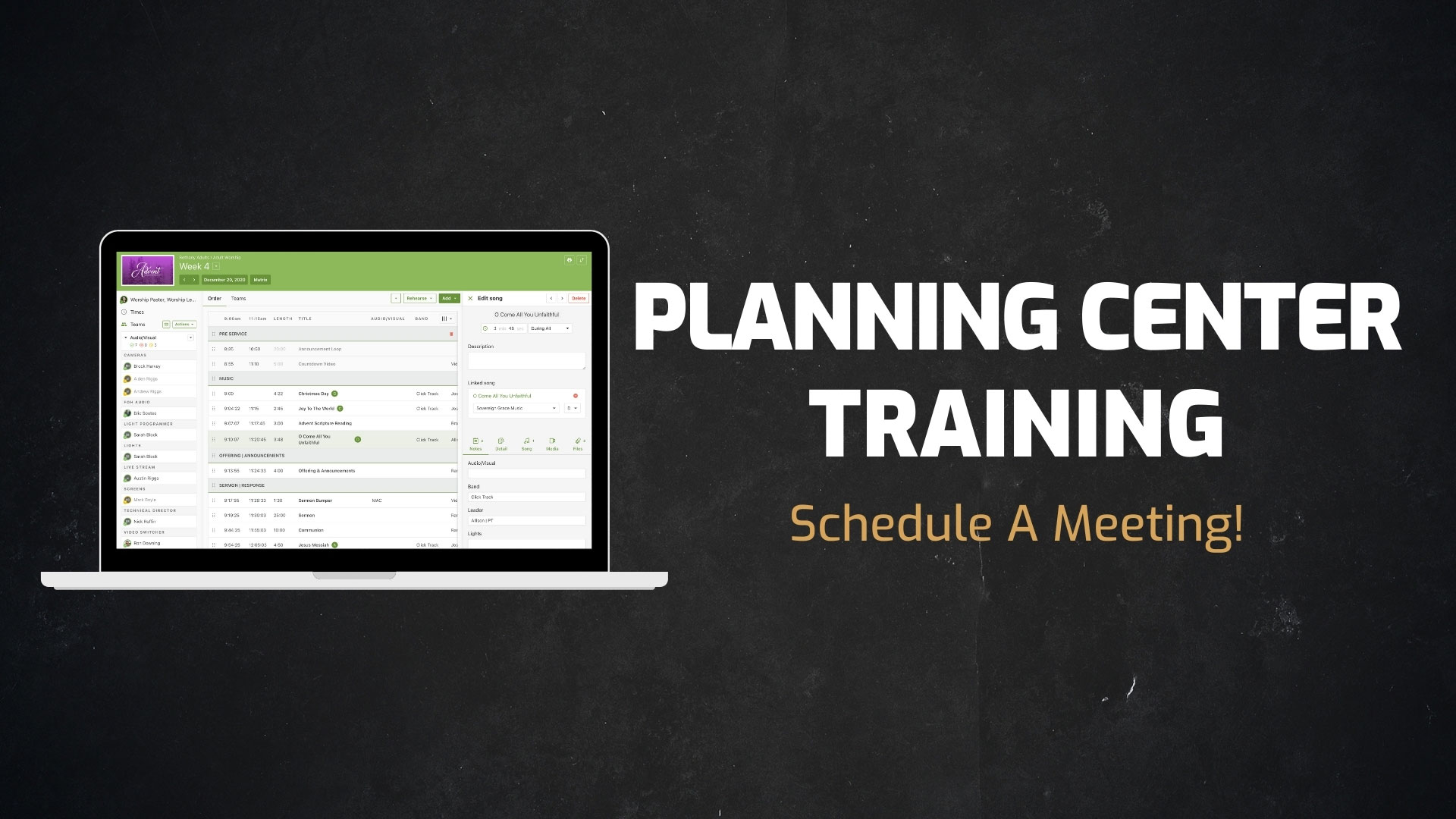 Save hours every week by using Planning Center to manage your church.
We can show you how.
Planning Center is a suite of apps you can use to improve nearly every system in your church. Planning Center will help you improve nearly every system in your church.
You can plan services, check-in kids, manage groups, take attendance, communicate with teams, schedule volunteers, manage donations, and so much more.
But how do you know where to start?
We have 10 years of experience using the Planning Center suite of apps and we can help you get set up and learn how to use Planning Center to its fullest potential.
Over 60,000 churches use Planning Center. Without question, they are the best Church Management System around, but learning all the features can be overwhelming and frustrating. Compare PC features with other ChMS here.
Working with us will give you and your team the training you need to learn how to use Planning Center to help your church get better.
You'll learn how to:
Manage your church membership data the easy way
Create online forms
Communicate effectively with volunteers
Plan worship services
Manage your small groups
Set up online registrations
Get more online donations with lower fees
And so much more
Training can happen in person (if you are in the Tulsa area) or over Zoom. And your entire team can join in!
Join our Planning Center Training Facebook Group to get specific questions answered!
Ready to get started?
Schedule a meeting with Joshua and you will receive a free assessment of your current Church Management System and he will show you how Planning Center can save you hours of time every week.
Join our free Facebook Group!
Learn how to use Planning Center to its fullest potential! Get help from others who are in ministry. And see how they use Planning Center in their churches. Search for Planning Center Training on Facebook or click below.
Join Today!
Want to combine services or discuss other training needs?
Let's chat!
Schedule a no obligation meeting with Joshua to discuss your church's website, tech and communication needs. Joshua has been serving local churches for over 18 years and he would love to help you #GetBetter so you can reach more people with the gospel of Jesus.